By Harry Mouland @Farmer_Mooo
We gathered at St Pancras bright and breezy, arrived in Brussels by midday Wednesday 18th May and were met by Jenny Brunton, who is the Senior European Policy Adviser at BAB.
We had a brief introduction to what the BAB do in Brussels by Robin Manning, BAB Director, while having some lunch on the BAB's sun terrace in the glorious Brussels sunshine.
The afternoon's programme was non-stop, with talks from Branwen Miles (Copa-Cogeca), Marion Picot (European Council of Young Farmers) and to round off the afternoon a presentation from CropLife Europe Director of Public Affairs, Emma Brown, and Government Affairs Manager Priscila Quaini Jacobitz.
Jenny and Alastair (NFU Graduate) turned into our official tour guides for the evening which consisted of cultural sightseeing, a meal, a near miss with some electric scooters and some questionable shaped waffles.
Thursday morning included a fascinating visit to the European Parliament. The visit was followed by a talk from Andrea Gilbride (NZ Mission to the EU), who bought us up to speed with agriculture trade in EU from New Zealand.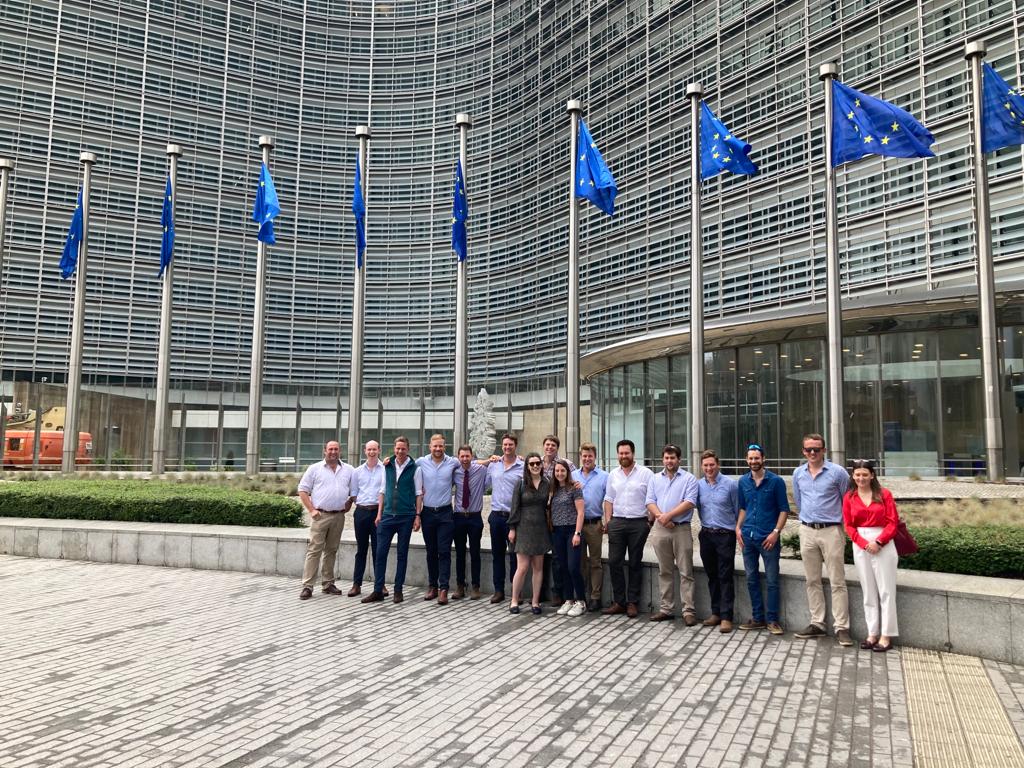 Thursday lunch, was the polar opposite from the following day. A walk to Place Jourdan was interrupted by a torrential downpour, which saw some of the group taking shelter in a restaurant watching the other delegates queuing for Belgium Frites.
Following a quick walk, in between downpours, back to the BAB office via picture opportunities outside the European Commission, we had a full on afternoon of talks before catching the Eurostar back to St Pancras.
We heard from Laura McCambridge, who works for the UK Mission to the European Union, which communicate and influence UK priorities to a European audience, they also report back to the UK on EU business.
The afternoon finished with a talk from Alexander Kinnear who works for the Ulster Farming Union. Alexander spoke about the work of the UFU and the main topic of conversation was the Northern Ireland Protocol.
I would like to say a huge thank you on behalf of everyone to Allie Hesketh and Ellie Webb for organising the whole programme, which was delayed a year due to Covid and again over the winter due to Covid. Our sponsors Openfield, and all at the NFU & NFU Combinable Crops team. It has been an honour being chosen to be a delegate for the Cereal Development Programme and I would highly recommend anyone to apply for the next. If only we could do it all again!